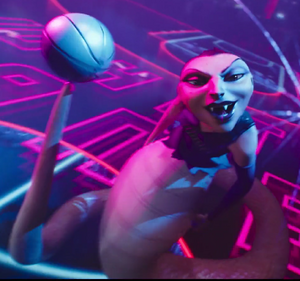 White Mamba (Diana Taurasi) is a villainess from the 2021 film, Space Jam: A New Legacy. She is one of two female members of the Goon Squad, the other being Arachnneka.
The Goon Squad was the creation of the film's central antagonist, Al-G Rhythm, the AI from Warner Bros. Studios' software, who desired to become more recognized. His plan involved abducting Dom James, the son of LeBron James, and later challenging LeBron to a basketball game of his own creation, while ordering him to comprise a team solely made of characters from the Warner Bros. universe. After seeing Dom's scans of NBA and WNBA players for his own game, Al-G steals the scans and turns them into the Goon Squad, while also manipulating Dom into captaining the team.
The game's stipulation had all of the people brought into the ServerVerse by Al-G, being trapped there forever with a Goon Squad victory, while all of the Looney Tunes would be permanently erased, Regarding White Mamba, she is a mutated version of a scan of WNBA player Diana Taurasi, with the character sharing the same nickname as Taurasi. Her appearance is that of a nāga (a serpent-like creature), and after scoring the game's first basket, White Mamba taunts many of the Tune Squad's players, mainly Lola Bunny, who moved past her and referred to her rival as a "worm."
As the film showed, the White Mamba used her tail to capture her opponents, including and especially Lola, who she intimidates in retaliation to being called a "worm" by Lola, all while hissing and unleashing her tongue. The Goon Squad dominated the first half, but LeBron and the Tune Squad's looney methods (as well as Dom joining the Tune Squad after realizing Al-G's immorality), led them to a comeback victory--which was capped off by Bugs Bunny performing LeBron's "step-back glitch" move. As a result, the mutated Goon Squad scans glitched and ended up deleted.
Gallery
Videos