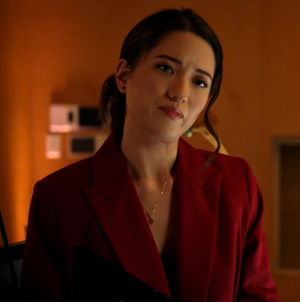 Molly Park (Reina Hardesty) is a villainess from "In the Fights," the antepenultimate episode of All Rise's first season (airdate April 6, 2020).
Molly Park is a budding lawyer and the estranged girlfriend of fellow budding lawyer Aidan Matthews, and in the episode, the couple was on opposite sides of a domestic violence trial. Molly was introduced as the victim in the confrontation, as she called the police on the night in question and claimed that Aidan had shoved her onto a table, leading to Aidan being charged. Mark Callan and Emily Lopez were on opposite sides in the trial, with Mark representing Molly while Aidan was defended by Emily--who was hiding her struggles with the trial due to having been in an abusive marriage.
Molly appeared confident in her first appearance, with Mark noticing that his client's behavior wasn't typical of a domestic abuse victim. All the while, Aidan proclaimed that Molly was the true aggressor and denied the accusations against him, and the trial became complicated due to Molly's absence, leading Mark to find his client. Molly was shown performing a mock trial, and when approached by Mark, she used her knowledge of law to state that she didn't have to testify during Aidan's trial. It was after Mark voiced his insistence that Molly revealed that she had struck Aidan first during their argument.
As Molly revealed, Aidan wasn't happy with Molly's choice of friends, and it led to the aforementioned argument, with Molly punching Aidan's face when (as Molly described) he got too close to her. The villainous attacker later reported Aidan's abuse to the police while hiding her own role, and added that her true role was why she no-showed the trial: because she didn't want to lie. Molly's confession questioned the claim that Aidan shoved his girlfriend onto a table, only for Aidan to reveal that Molly's account was true, angering Emily. Molly repeated her admission during the trial, which ended with a hung jury, leaving Molly's fate unknown.
Trivia
Reina Hardesty also appeared as the Weather Witch on the Arrowverse.