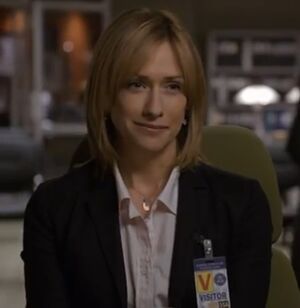 Grace Redmon (Myndy Crist) is the main villainess from "The Predator in the Pool," episode 5.18 of Bones (airdate April 22, 2010). She is an elementary school teacher.
Grace was interviewed by Seeley Booth regarding Jazz Gunn, a self-help guru whose body was found at an aquarium. Gunn was a guest lecturer at the aquarium, and Grace's interview was due to the fact that she had taken her fourth-grade class to the aquarium on a field trip. Grace stated that she didn't know the victim, though Booth and Dr. Temperance Brennan uncovered that both Gunn and Grace took a trip to Brazil, where Gunn claimed to be swimming with sharks as part of his "face your fears" treatment that he supplied to his followers. Gunn claimed that it cured his spinal paralysis, but in actuality, he was in Brazil to get stem cell injections, which was the actual cure.
The connection led to Grace being interrogated, and she was revealed as Gunn's killer. She revealed that she had fibromyalgia, and she went to nine of Gunn's seminars and was told to face her fears to cure her illness. However, she found out on her trip to Brazil that Gunn was cured via stem cells, and became angry over his deception. While leading her class at the aquarium, she spotted Gunn, who later showed her a poisonous lionfish and again told Grace to face her fears. Still possessing anger over Gunn's deception, Grace turned heel and shoved Gunn's face into the lionfish's tank, allowing the fish to kill Gunn. The villainess confessed to the murder by stating that she felt no pain since killing Gunn, after which she smiled to show her contentment with her actions. Afterwards, the evil Grace ended up arrested (off-screen).
Trivia
Myndy Crist also played CSI franchise villainesses Karla Gardner (Miami) and Rebecca Brewer (original), and later appeared as the villainous Abby Tenney on The Rookie.
Quotes
"I went to nine of his seminars. I have fibromyalgia and that bastard convinced me that if I just faced my fears, that magically all of this pain would just disappear. He lied. (Booth: "So you brought a group of fourth graders along as an alibi for murder?") No, it was a coincidence. He took me back to see this poisonous fish. "Come face your fears," he said. Last thing he should have said to me right then. I'll tell you what, though. He might have been on to something, that bastard. Because ever since I shoved his lying face into that poisonous fish, I haven't felt any pain." (Grace Redmon's confession to killing Jazz Gunn)