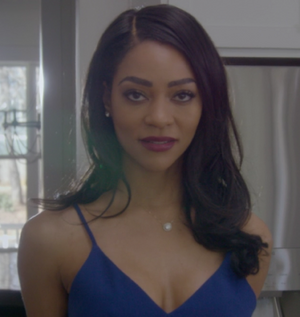 Giselle Christophe (Natasha Marc) is the secondary protagonist from the 2021 film, A Deadliest Lie (alternately titled, A Dangerous Thing), though she appeared as a villainess in a brief dream sequence.
Giselle Christophe served as a friend of main protagonist Samantha Connelly, who she first met after saving Samantha from being assaulted by Clay Davis at a bar. Their friendship saw Giselle help Samantha regain her confidence in not only her professional life, but her personal life as well; however, after Samantha ends up having a tryst with her client, football star Jaden Turk, at a party that she attended with Giselle, Samantha began to distance herself from Giselle. Following this, Samantha's presentation was sabotaged with photos of herself with Jaden, and she had also been stalked, leading Samantha to suspect Giselle.
Samantha's suspicions resulted in a brief nightmare where Giselle appeared in her house and greeted Miles (Samantha's boyfriend) and Tony (Samantha's son), before turning her attention to Samantha. Giselle turned heel afterwards by flashing a sinister smirk and Samantha before asking her if she was the princess or the maid; a reference to Giselle's favorite fairy tale, The Goose Girl. At that moment, the evil Giselle bludgeoned Samantha, who woke up from her brief nightmare.